A balanced diet consists in giving your pet both dry and wet feed. In the latter case, we can include homemade cat food. If you want to know what your animal eats, without additives or other harmful things, then I leave some good homemade recipes.
Meat and vegetable stew
Ingredients
1/2 kilo of veal
1/2 kilo vegetables (carrot, squash and / or spinach)
2 glasses of rice
2 tablespoons olive oil
Realization
To make this recipe we need to first wash and chop the selected vegetables. Next, we add these to a pan with a little olive oil. We saute them a little and then we pass them to a pot.
Now, in the pot we cover the vegetables with water and incorporate the rice and the minced or chopped meat. By last, We let everything cook until the vegetables are tender. To finish, drain the water and add a little more oil to flavor it. Once it has tempered we put everything in the fridge. When we go to serve we take a ration and let it temper.
Homemade cat food: fish recipe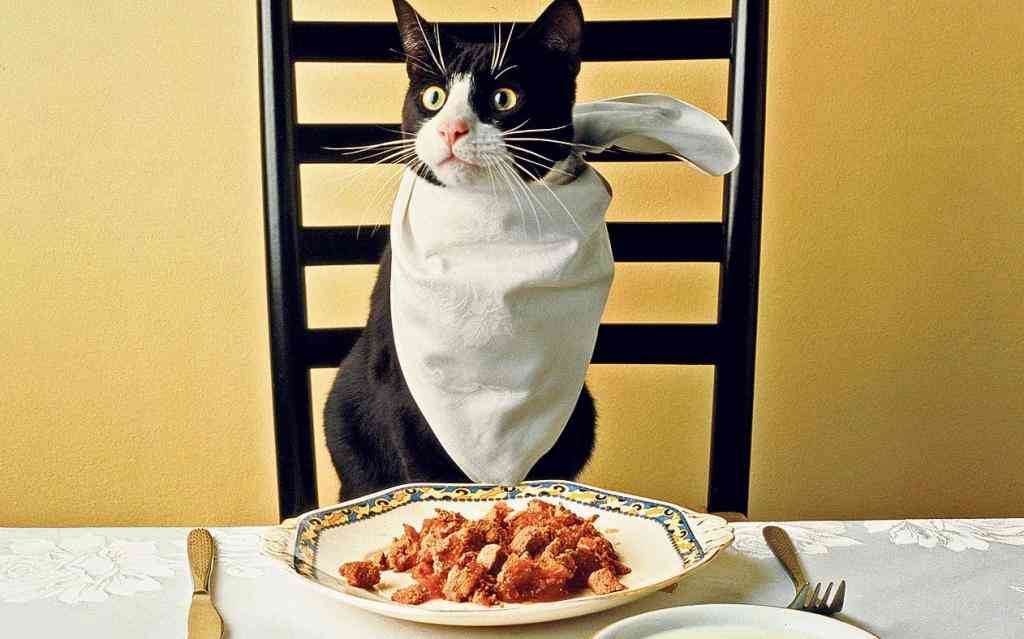 Ingredients
1 cup minced meat
½ cup rice
½ cup spines
Realization
In this recipe we can use raw minced meat, but we can also pass it a little through a pan or boil it a few minutes. On the other hand, we boil the spinach for a few minutes so that they do not lose the vitamins. In addition, we also cook the rice without salt and without anything else.
When everything is cooked, mix the drained ingredients. To finish, we add everything to a glass and beat or crush. Finally, we store everything in the fridge. To serve, we take out a ration and let it temper.
This recipe is an excellent option for cats and, in addition, its preparation is very simple. Your kittens will love this great recipe.
Tuna mix
Ingredients
Tuna 1 can of 400 grams
¼ cup liver
2 tablespoon fishmeal
Realization
Cats are fascinated by tuna, usually, so this recipe will love it. To make this recipe, we first clean and boil the liver. Once it is boiled we pass it through a blender and crush it.
On the other hand, we boiled the rice without salt and with nothing else. Finally, we drain the canned tuna well. Now, in a large bowl, mix the liver puree, rice and tuna. Mix well until you get a dough. Finally, with the same hands we can make small bite-sized balls. These balls let them cool in the fridge and when serving, we take them out previously.
Homemade cat food: Chicken with carrots
Ingredients
Chicken.
Carrots
Beer yeast.
Realization
Almost all cats love chicken so this recipe, full of vitamins, will fascinate them. A recipe full of protein and vitamins, and easy to make.
We start cleaning and boiling the chicken, never give it raw. Once it is well cooked, we also boil the carrots (we can cook it all at once). The next step is to puree the carrots and then mix with the chicken. POr finally, we mix with the brewer's yeast. Now we store everything in the fridge.
Homemade cat food: Tuna Delight
Ingredients
400 grams of canned tuna, melva or bonito.
1 or 2 eggs
Fish flour
Low salt cheese
Realization
First we beat the eggs well and to these we add the cheese without salt or low in salt. Then we put the tuna on this and mix very well. To this mixture, we also add whole wheat flour. Remove once more and, once obtained a dough, place it in a baking dish. We cook for 15 minutes at 200º C.
After 15 minutes, we take out the dough and let it cool a little. Now we can chop it and keep it in the fridge for a few days. Surely your cat will love it.
Homemade cat food: Rice with chicken
Ingredients
2 glasses of rice
1/2 kilo vegetables (carrot, squash and / or spinach)
1/2 kilo of chicken livers
1 liter of homemade broth
100 grams of grated carrot.
Realization
Wash and dry the chicken a little to remove excess water. Then we chop it and cook in a pan with a little acaeite. Once I brown, we reserve. On the other hand, we make the broth.
We heat a little water in a pot and here we return to add the golden chicken. We also add two glasses of rice and grated carrots or in small pieces. We cook all over low heat and stir so that the rice does not stick. Once the rice has consumed all the broth, we turn off the heat. Now we let it cool and store in the fridge.
What benefits do homemade meals provide for our cat?
As we commented at the beginning of the post, it is highly recommended to provide a mixed feed to our felines. There is a Perfect combination between packaged meals (dry or wet) and specific culinary recipes that we can offer the owners.
What should we keep in mind when feeding a cat with homemade food?
The most important thing you have to keep in mind is that you should not repeat the same menu for your cat every day, since the only thing that is achieved with this is that you have deficiencies in your diet, which will affect your health. Your cat needs variety in its diet to be in perfect condition.
Tips
Combine homemade meals with dry meals (I think)
Make it a varied diet.
Beware of carbohydrates such as noodles, cookies, bread and any such food.
The animal must always have fresh and clean water.
There is foods that should be banned and never give them to our pet.
If you have questions about food, go to the vet to make sure what foods will be best for your cat.
Food prohibited in cats
Unlike dogs and humans, cats are not omnivorous animals but carnivores. For this reason there are certain foods that not only are not accustomed but They cannot process properly. Some of them are:
Grapes, oranges, grapefruits, avocados or lemons
Vegetables such as onion, garlic, potato or tomato
No chocolate, coffee or tea
Dog food
Salt or sugar
Milk: Cats begin to develop lactose intolerance as they grow
Fish bones or animal bones
Obviously alcohol, drugs or any type of stimulant
Did you find this post about homemade cat food recipes useful? Do you want to know how to take care of your rabbit? Are you looking for recipes for dogs? Do you want to know how to travel with your pet?