Uncover the ultimate review of Badlands Ranch Dog Food. A perfect blend of nutrition and taste that will delight your furry friend.
In 2022, Badlands Ranch introduced its first dog food product, Superfood Complete. This Badlands Ranch Dog Food Review is for this boutique brand, founded by actress and animal activist Katherine Heigl, takes pride in producing a single air-dried dog food that offers both nutritional excellence and palatability. Named after Heigl's family ranch in Utah, Badlands Ranch not only prioritizes the well-being of pets but also supports animal rescue initiatives through its non-profit foundation. In this comprehensive review, we will evaluate the ingredient quality, safety, and overall suitability of Badlands Ranch Superfood Complete.
Badlands Ranch Superfood Complete: A Nutritional Breakdown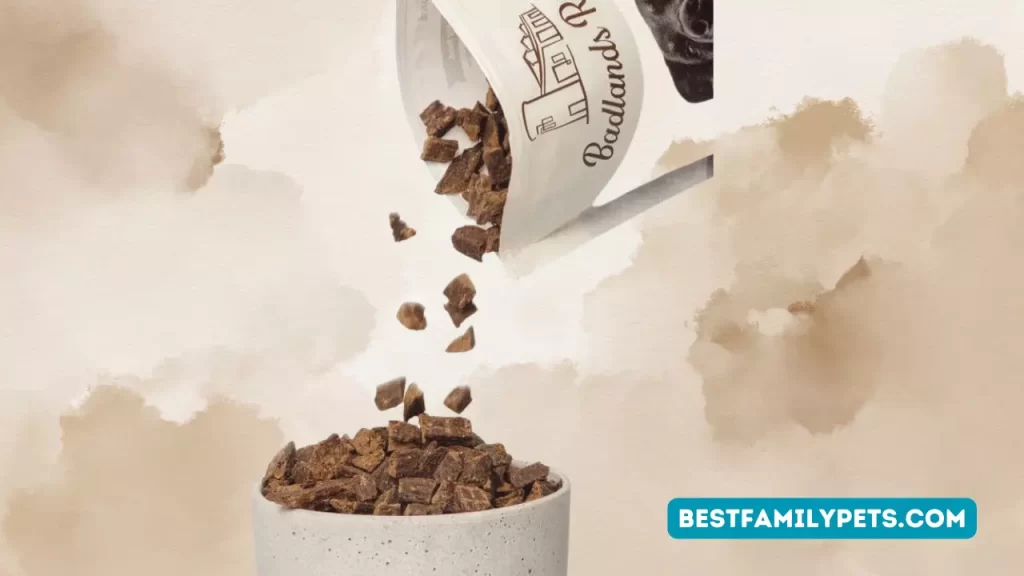 Score: 8/10
When assessing Badlands Ranch Superfood Complete, we employ specific criteria to evaluate its quality and safety. By considering these factors, we can determine the suitability of this dog food for our furry companions.
Ingredient Quality
While Badlands Ranch Superfood Complete excels in many aspects, there are two concerns regarding its ingredient quality that merit attention.
High carbohydrate content
This particular recipe contains approximately 24% carbohydrates, which is relatively high for an air-dried dog food. Ingredients such as sweet potatoes and pumpkin contribute to this elevated carbohydrate level. It is important to note that excessive starch intake may lead to increased insulin levels, obesity, and imbalanced gut health.
Excessive added vitamins and minerals
The inclusion of excessively added vitamins and minerals in Badlands Ranch Superfood Complete raises questions about the quality and processing of the ingredients used. Ideally, these essential nutrients should be sourced from whole foods rather than being artificially supplemented. An overabundance of certain vitamins and minerals, such as vitamin D and copper, may result from these added nutrients.
Ingredient Safety
While Badlands Ranch Superfood Complete is generally safe for consumption, there is one aspect related to ingredient safety that should be considered.
Moderate Processing
Due to the air-drying process employed in the production of Badlands Ranch Superfood Complete, there is a slight loss of vitamins, minerals, enzymes, amino acids, and phytonutrients. Although this method is considered moderate in terms of processing, it may impact the overall nutritional value of the food.
Is Badlands Ranch a recommended dog food?
Considering the evaluation criteria and our analysis, Badlands Ranch Superfood Complete is classified as a low-risk dog food option. It is moderately processed, free from high pesticide or genetically modified ingredients, and does not rely on grain-based carbohydrates. The protein content of 35% is commendable, although a higher level would be ideal.
However, it is worth noting that while Badlands Ranch Superfood Complete contains added vitamins and minerals, the preference would be for these nutrients to be naturally derived from the ingredients themselves.
Other points of consideration
Although these factors do not directly affect the score, they are worth mentioning for a comprehensive review.
Lack of Specification Regarding Fish Source
While Badlands Ranch Superfood Complete includes salmon, the company does not specify whether the fish used is farmed or wild-caught. It is important to note that farmed fish generally have a lower nutritional value and lack the optimal balance of healthy fatty acids found in wild-caught fish.
Absence of Omega-6:Omega-3 Ratio Information
Like many dog food brands, Badlands Ranch Superfood Complete does not provide information on the omega-6:omega-3 fatty acid ratio. This ratio is crucial, as omega-6 fatty acids have pro-inflammatory properties. The Association of American Feed Control Officials (AAFCO) allows a ratio of 30:1, which can contribute to inflammation-related health issues.
Badlands Ranch dog food recalls
To date, there have been no recalls of Badlands Ranch dog food products, indicating a consistent commitment to quality control and safety.
Evaluation Criteria for Dog Foods
At BestFamilyPets, we follow a specific set of evaluation criteria to provide objective and unbiased reviews. We score dog foods based on two primary factors:
Ingredient Quality: We assess the quality of ingredients by considering various factors, such as excessive carbohydrate content, inclusion of unnamed proteins, use of cellulose (wood pulp) instead of real food fibre, excessive added vitamins and minerals, and reliance on inexpensive plant proteins instead of high-quality meat proteins. We also consider the presence of inflammatory, processed seed oils.
Ingredient Safety: We prioritise the safety of ingredients by evaluating their sources. We examine the level of processing involved, the presence of genetically modified ingredients, the likelihood of pesticide contamination, the use of natural flavours (often containing MSG or animal digest), and the inclusion of rice, which can be high in arsenic.
Our evaluations are conducted with transparency and without bias. There are no affiliate links or paid promotions associated with our reviews. At BestFamilyPets ensures that dog owners receive unbiased and objective information to assist them in selecting the best dog food available.
Final Words
Overall, Badlands Ranch Superfood Complete presents a viable dog food option that combines nutrition and taste. With an overall score of 8/10, it ranks as a low-risk dog food based on our evaluation criteria. While there are minor concerns regarding the high carbohydrate content and excessive added vitamins and minerals, the brand demonstrates a commitment to ingredient safety and provides dogs with a moderately processed diet. By continually striving for improvement, Badlands Ranch has the potential to enhance its offering and provide an even more optimal nutrition profile for our beloved canine companions.
Blue Buffalo

,

Caloric Intake

,

Calories

,

Cup

,

Dog Diet

,

Dog Food

,

Dog Owners

,

Feeding Guide

,

Grain-Free

,

High-Protein

,

Natural Ingredients

,

Nutrition

,

Pet Health

,

Pet Industry

,

Premium Dog Food

,

Veterinary Care

,

Weight Management

Blue Buffalo Dog food calories are an important consideration when it comes to feeding your dog. It's important to choose a perfect dog food!