Playing with your pets strengthens that special union. If you also want to make your own toys, totally personalized for your little friends, they will surely unite you even more. Then I leave a series of ideas that you will like. How about?
Dog toy ideas: a rope with a ball at the end
Most likely this toy has already been seen in pet stores. It is very simple so you can easily make one at home.
With a simple rope, which they sell at any DIY center or one that you have at home, you have already made half the toy. It only remains to fix or sew a ball at the other end. You can also add a kind of knot.
With this simple toy your dog will play a long time, until it gets tired. It is a dynamic and very simple game. You can also tie several knots along the rope. It really is quite versatile and your dog will love it. What do you think about the idea?
Make a ball with surprise!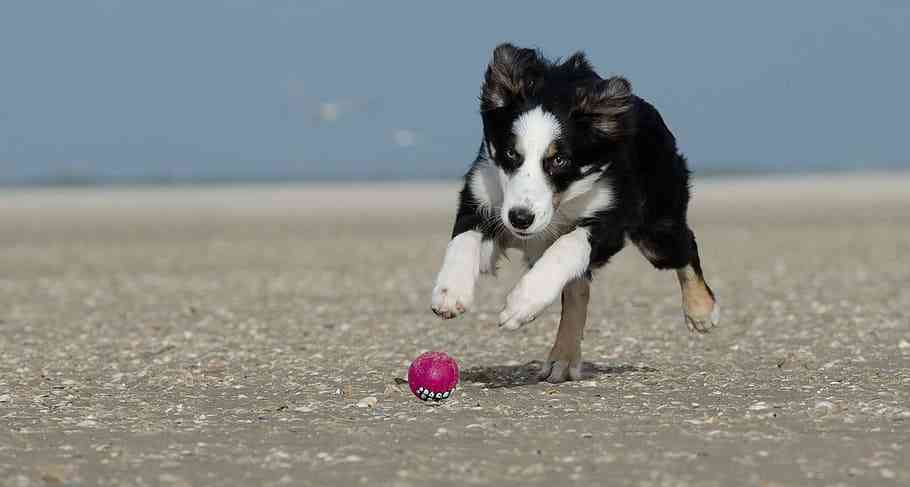 Making this toy is very simple. You just have to find a ball that is soft and hollow inside. In this way, being squishy, ​​you can make an opening and put something you think your dog likes inside.
In this way you turn a simple ball into something more interesting for the little dog. You can fill it with endless sounds, old rags, unused socks, or even some dog treat. Surely this game loves it and as you can see it is very simple to make. How about?
Dog Toy Ideas: Stretch Rope
This is another fun toy that your pet will surely love. For this you should look for a rope that stretches trapillo type or something similar. Then add a knot, several knots, or a toy at the end. On the other side it is convenient to tie this elastic rope to a stick, a reed or a ribbon. In this way, the dog can play until it is full without the other end falling to the ground.
This is a game for your dog to derail by turning, stretching the rope and everything you want. The part that does not stretch can be fixed to the ground or even tied to a tree. Although you can also take it in your hands and play with the dog.
It is a homemade idea that will also be benefiting the dog to exercise. A good way to strengthen the dog's condition and improve its skills to make it perform better. With this fun game the dog will exercise a lot of energy in a small space. What do you think about the idea?
Dog toy ideas: sock with a ball inside
This toy is very simple and quick to make at home. You just have to look for an old bulletin and that you do not wear. Then put a ball of dogs inside or anything else that sounds or that your dog likes. Then tie the sock, making a knot, and let him play as much as he wants. You will see that it has become a very simple toy to make, fast and that it will love. How about?
Plastic doormat with surprises
In this image you don't see exactly what we mean. The idea is to buy a doormat which has some holes or indentations. Now, on these slits we must place some sweets at random. It is not necessary to cover each of the holes, since you can skip as many as you want. The idea is to spread a few treats. The dog will have a lot of fun and will entertain himself by taking out the treats.
An upholstered bottle for biting
You can upholster or not the bottle and even put something inside to make it sound. With this simple toy your dog will have a great time playing until the bottle holds. It is also a great way to recycle materials you have at home.
If you prefer to wrap it in something you can use, for example, an old shirt that you do not use. Tuck the bottle inside, then tie knots at the ends. What do you think of this idea?
Plastic jump ring
In this case it is not necessary to manufacture anything, but to take one or two hoops and let your dog play. The idea is to pass them inside, that is to say, jump and go through them. For this you can help him by holding the ring yourself or you can place an invented base that supports them. The jumpiest dogs will love to play this.
Dog toy ideas: make rag ropes
If you love crochet you can do it with wool or with pieces of fabric that you don't use. Knotted or plaited trapillo ropes will look great. Your dogs will love it. These toys can be made with string or with leftover T-shirts, old towels or similar things. What do you think about the idea?
Cardboard tube with surprise
Another idea to make a dog toy is to use cardboard tubes of toilet paper or kitchen tubes. You just have to put treats inside the tube and let the dog smell them. He will play with the piece of cardboard until he takes them out.
Train your dog's nose by leaving treats inside the cardboard tubes. This homemade game is fun and very easy to make. Even, to make it more complicated, you can cover one end.
Paper ball
By last, a very fun toy is to make a large paper ball and let them play. It's easy, it's fun and you recycle paper. You can do it with the newspaper, with magazines, wrapping paper, etc.
Has this post about dog toys been useful to you? Looking for information on dog food? Looking for information on cat fur? Are you looking for costumes for your pets?